It's a Christmas Miracle!
A Flyte of Fancy as narrated by Olaf (the Nutcracker)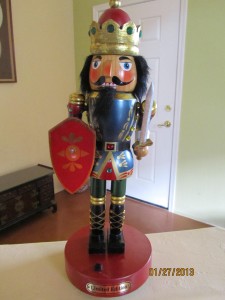 I have been a part of Jomomma's Christmas for many years now.  It was her Jewish husband, David, who rescued me from the sale table at the local Walgreens.  He thought, and rightly so, that the grandchildren would love me!  I am not just a pretty face as I play great music and dance a bit…dance is a stretch (heh heh get it? stretch?).  Yes, I have been around David (Papa Bear) way too long.
When I first joined the Christmas Menagerie it was nice, on one hand because I was new, and on the other hand, I made a lot of noise.  The children loved me.  Maybe they loved me a bit too much.  It seems that the music and the kinetic movements of my dance did not wear well with the older folk.  I was getting way too much play time and Papa Bear decided to …well, I can hardly say this without choking up a bit…several years ago, Papa Bear stole my batteries.  I still got top billing by being placed in the entry way.  I was still the symbol of all the joy and whimsy that Christmas Eve brought to Jomomma's home, but I lost my voice…well, just my outside voice.  I was forced to find my inner voice that Christmas, and this is a good thing.
That first quiet Christmas Eve was somewhat traumatic for the children.  They are a noisy lot and they related to my enthusiastic bombardment of sound.  They probably pushed that "on" button way too many times for the old folks in the house, who were just trying to keep the level of excitement to a low roar.  Jomomma and Papa Bear told the little ones that I was still the star of the Christmas ornaments, but that I was tired and maybe a little broken.  Well, those children were not fooled and put up a bit of resistance…but, it was Christmas Eve and they were easily distracted.
Because of my sudden quietness, I learned to listen more.  I listened each year as Jomomma lovingly unwrapped me and set me on my honored perch in the entry way. I heard her songs that she only plays when she is decorating the house for the season.  I have to say that the Blind Boys of Alabama rendition of "When was Jesus Born" is my favorite…well that and Tchaikovsky's Nutcracker Suite (of course).  I listened when the children and their children came to decorate the tree.  I listened to Papa Bear pray as the grandchildren lit the Menorah, as Hanukkah usually intersects with the Christmas Season.  I listened late at night to the other ornaments while they told their stories.  And I listened as the house filled with family and friends on Christmas Eve.  I felt so blessed with this gift of listening that I nearly forgot about my dance and my song.
The grandchildren missed my voice, but they are a patient and I must add, a tenacious lot.  One Christmas a couple years ago they sprung a coup.  I am not certain who the leader was but I am thinking it was probably Chloe in cahoots with her older sister Savannah.  They waited until the evening had progressed past the eating,  the opening of presents and just before the time for that group picture of all the grandchildren on the sofa.  They struck when Jomomma was distracted, visiting and fussing around, like she does when entertaining.  Savannah approached her looking a bit distressed.  She was holding one of her devices in her hand and almost in tears asked Jomomma if she and Papa Bear might have a battery for her.  Without blinking an eye, Jomomma pointed to the kitchen drawer that holds the coveted batteries.  You see, these children understand their Papa Bear…he is cautious and always prepared.  They knew he was the type to have batteries of every size on hand.  It did not hurt that they waited a couple years before pulling off the big sleight of hand performance!
All of a sudden, there I was dancing and the music playing, and I had new batteries!  The people all looked my way as Chloe exclaimed, "It is a Christmas Miracle!"  And indeed it was and still is.  For you see, I got my voice back, but the great gift was that in its absence I found so much more.  I have many stories to tell.  This is the real Christmas miracle…the stories, the memories of so many Christmas Eves, and the true Miracle of Christmas which is Christmas itself.  Now that I have my voice back, I will be sharing so much. This Christmas Eve is my first installment with many more to come.  There are many stars waiting to tell you their stories, and remembrances and their joy.  Meet Miranda!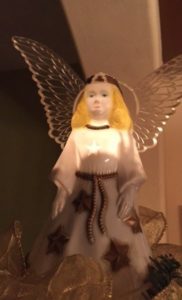 MIRANDA
Olaf Speaks
This is Miranda.  She is the oldest of the ornaments.  This year, 2015, marks her 60th Christmas.  As you can see Miranda is an angel tree topper and she has been with Jomomma since 1955.  Only it was not Jomomma then…only Rags.  Nicknames have always had a way of finding Montie Jo, and Rags was easily bestowed upon her as she was always in a tree- or playing in the dirt- or careening down the sidewalk on skates with her dress sashes flying behind. There was not a piece of clothing she owned that did not get ripped, torn or shredded.  So, her dad just started calling her Rags.  It was an affectionate nickname, but not all that flattering. It took a few decades before Rags' father noticed that she was pretty.  Well, maybe he noticed before then, but it took him that long to acknowledge it. It is a truism that fathers do not want their little girls to grow up and go away; they think if they don't mention it no one will notice, and they can keep them close a little longer.  I don't think Rags was all that crazy about growing up either…not so sure Jomomma is all that comfortable with being "grown up".
Montie's mom and dad brought Miranda home for the tree that year; and when Montie left to start her own family and home she took the sweet angel tree topper with her.  It was Miranda who first comforted me when I lost my voice.  She looks like a young girl, but is really the matriarch of the ornaments.  It is only fitting that I begin with her story.  As a matter of fact, I am going to let Miranda have my voice for a bit so she can tell her own story.
Miranda Speaks
It is not easy being a tree topper and an angel tree topper is even more difficult. Let's face it; sitting on top of a tree is a bit precarious, both physically and emotionally.  I am after all, an angel who goes around with a tree twig stuffed up my insides…you know.  But we angels know adversity.  Did you know that of all the angels mentioned in the Bible, not one is a girl?  Right off, we are not respected.  But to be honest, how many boy angels do you see on the tops of Christmas trees.  Of course, the baby Jesus is the star of the pageant, so maybe God decided that the girls could get in on some of the celestial roles. Whatever the rationale, I am happy to have had this gig for so long.  I hope one of the grandchildren will make room for me someday.
Here's the deal.  Our little troop of ornaments just keeps growing.  Every year, I overhear Rags whining about needing a bigger tree.  It is not likely that she will weed us out, and do away with the old and not so sparkly of us to make room for more newer brighter stars.  You see, she is no longer so new and sparkly herself.  I think we are safe whether she gets a bigger tree or not. But if she hangs around much longer, where will she put us?  And where will we go when she leaves? Better not to worry about the small stuff, I guess.
So, what is my Christmas Miracle?  Is it not enough that I am still here?  Well, that is a lot, but not even close to what I think is miraculous.  Without fail, when Rags opens the boxes and packs them up again, she is reminded of all the glorious things in her life.  We all bring a piece of someone else to her every year.  It is always the same.  She puts on the music and unpacks and sets up the tree.  She has to touch every ornament and decoration and it is joyous; we bring her all the memories of past Christmases and no longer present persons. She shares this fun part with the children and their children.  It is happy, and sweet, and a renewal of sorts.  There is the gratitude for another year, and another celebration of our baby Jesus' birth.  It is all new again!
Then the putting away. Oh, it is so sad.  We don't know what next year will bring;  and we don't know if we will hear the music, and we don't know if we will get to share our stories again.  But she lovingly reminds us that the best is always yet to come.  That is what Christmas is all about.  It is the promise of another season, another miracle.  Always…always…always.