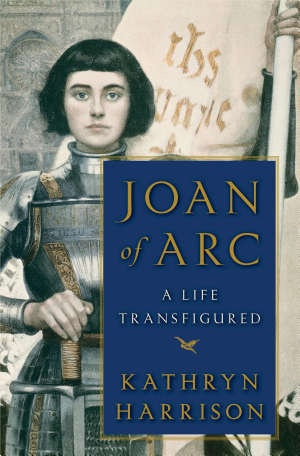 We are going to France…and it is Joan's fault.  This was supposed to be the year for Hawaii…I got sidetracked.  What began in March as a casual 10 day trip to Oahu and Kauai has turned into a huge Francophiliac (yes, a made up word—my blog—my prerogative) adventure!
So, back to Joan.  We were out one Friday night browsing the stacks at Barnes and Noble when I found this book.  Normally, I put anything I want to read on my Kindle, but the cover of this book just grabbed me.  It is embossed too…so very tactile.  I not only wanted to read it, I wanted to touch it!  Yes, I admit it!!! I often judge a book by its cover.
Joan's story has long been intriguing to me.  She was the ultimate feminist in the true sense of the word. She followed her passion and faith.  She saved France.  She was burned at the stake for wearing men's clothing.  I guess that was really a big deal back then!  Never mind that she wore the clothing as a safeguard against capture and rape and such….I don't think she meant to offend anyone, least of all the God who sent Michael the Archangel to counsel her into waging war with the English.
I digress.  Obviously, I am taken with the young maid from the French countryside.  However, as I read her story and inserted myself into the geography that defines the battles and history of the 100 year war…well, I found that I just had to visit France.
I will visit the site of the battle of Orleans.  I will visit the cathedral in Reims where the coronation of Charles VII took place as Joan stood by.  As it happens, I will not make it to the place of the burning at the stake stuff!  Falling in love with Joan made me fall in love with France so it is her fault and I could not be happier.
We have an 18 day adventure planned starting in Marseilles and ending in Paris.  There is so much in between I don't even know where to begin.  My plan is to let it out a bit at a time, and take you along with me during the planning, the trip, and the denouement (pronounced day new ma).  See I am already fluent. The tickets are booked and seats chosen.  Let's see if that works out…picking the nice seats so far in advance.  Accommodations are selected and paid for.  We are spending most of our time in vacation rentals secured through VRBO France.  Yes, we have an apartment in Paris, in the Latin Quarter.  Did I just say that?   Oui oui  merci beaucoup I did!