The Easy Steps Saga continues.  Where did I leave off on the Six Easy Steps?  Yes, on seven.  How many are easy?  Not seven, that is for certain.  I posted a picture of Mr. Hostgator below because he is sort of fierce looking, a warrior in the battle to conquer the intricacies and maybe just the basics of website design.  AND then he also looks a bit like my son-in-law Brett.  Brett like many others in my family knows his way around the technical landscape that is tormenting me.  When I called in the troops in Step Seven…he got caught up in that net.  So, onward to step eight!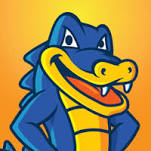 8.  Actually, Brett helped me a lot with adding media and organizing some of the text.  But what he really did for me was challenge me to focus and make some decisions about what I want to do with this blog and what I want it to look like.  Some of my dissatisfaction at this point was that I just did not like the way the site looked and I could not figure out how to change it.  Brett sent me packing with a homework assignment:
Read some blogs–find what is appealing to me in word and design
Determine what I really want to do with this website
Divorce myself from the false start and be willing to rethink the whole concept
Don't be afraid to study a bit and get familiar with HTML—that whispery secret language known as CODE.
Play with the theme and build a library of media to work with
Start writing on a regular basis and don't worry about publishing just yet (figure out if I really want to do it)
Then get some more help…ask around and find out who is doing what I think I want to do and learn from their experience
9.  During this process, I found some help and inspiration from more than a few places.  Here are some of the blogs and bloggers that I plugged into and learned a great deal:
Bob Lotich of ChristianPF–he has some great how to do and what not to do posts for anyone considering starting up a blog with an eye to commercializing it at some time
Adventurous Kate/ The Solo Female Travel Blog—she is very good and entertaining–also a great source of information on all sorts of things—I connected with her on FB too!
Potteddesert.com is the brainchild of Marylee Pangman—not only is her website a great inspiration, her new book Getting Potted in the Desert is a gem! She is a great friend who has helped me with advice and ideas along the way.  Her experience as a master gardener in the Sonoran Desert shines through on her site.  It is worth a look see, whether you care about container gardening or not.
Then there is Brandon Teasdale—my sweet brother-in-law who has a travel blog on www.travelpod.com—he is an inspiration to me.  He and my sister traveled across the country and back to Las Vegas(their home) with a fifth wheel in tow for over a month this summer.  I loved keeping track of them and living the road trip without the greasy food and the bumpy jiggley roads…they survived and I had a great time!
I follow a few authors too.  My favorite right now is J.B Simmons and I am loving  The Omega Trilogy.  His website jbsimmons.com is a big inspiration to me and I plug in often
10.  With all this inspiration and knowledge in hand I set out to get serious.  I googled around and read some message boards and then found a great resource right on the sidebar of my WordPress page.  Step TEN took me to Mojo Marketplace where I basically started over with a new Theme…one that caught my fancy.  I got some professional help and Here we are!  I am blogging and posting and putting albums together!  All this and I am in the crazy final planning stages of our trip to France.  So, I want to write about my travels and my books and adventures and leave the easy steps behind.
Back to my original premise of the Easy Step blogs…most things worth doing are not easy and not likely to be done quickly.  One should be on the look out for passion and purpose.  The rest will follow.  Don't be discouraged, BECAUSE every wrong attempt discarded IS another step forward (not my original thought-got it out of a fortune cookie).