Yes, that is us…taking a long ago commitment to catch a concert in LA, and turn it into one of our adventures, full of detours and surprises.  I am not always up for all the concerts my rock and roll fan husband gets all excised about…But, the Zombies? Oh yes, I will go out of my way for them, especially for Odessey and Oracle.  Good stuff!
I love the quick weekend road trips to California, or Las Vegas, or New Mexico for the Hatch Chile Festival.  Even when I take my computer and a little work, the break in routine and scenery is refreshing.  The thing is, we always find a fork in the road and our policy…NO, our mantra, is to always take it! Let me just say that forks are icons.  Well, I can't just say that and not explain, can I?
THE FORK
The fork is a piece of cutlery or an eating utensil. It is as old as the Roman Empire, and as funky as my favorite necklace (made from a fork of course).  Metaphorically, it can mean almost anything.  This is especially true if one is inclined to "flytes of fancy".  To be fair, my love affair with the fork began in a very normal way, for us anyway.  We were in San Francisco on a business trip for David, and me just tagging along for the adventure of staying in the city on the hill.  And on the HILL (Nob Hill that is) we were,  as our hotel was the InterContinental Mark Hopkins. What a treat!  To top it off, the Fairmont is just across the street.  We were walking back to our hotel after perusing the lobby of the Fairmont ( that hotel is grand) and we were more than a little awe struck with it.  We were just taking it all in when we spotted a tiny dessert fork in the street…we both said in unison, "What do you do when you come to a fork in the road?".  Dave shouted, "You take it of course"! We did and that fork is still one of my most prized possessions,  as it has come to represent more than just a vehicle for stuffing cake into one's mouth.
What is it to take that fork in the road? Taking the fork in the road represents opportunity and adventure.  Do you meet new people, see new things, think great thoughts, or find something that was lost or not yet imagined?  All of this and more.  I have a little story that I read somewhere.  It could have been on FaceBook, but I found it before that era began.  It is about a widow who went to visit her lawyer and made the request to be buried with her fork.  When asked why, she told him of her experience as a young woman at a very nice dinner party.  Several courses were served, and the staff would remove the settings between each dish.  She handed the small dessert fork to the waiter as he was clearing and he said "Oh no my dear, you will want to keep this for the best is yet to come".  And indeed it was when the last course was served.  It was the most delicious and lovely pastry that she had ever eaten.  The lesson was not lost on her, nor me.  I will be buried with my small silver dessert fork too.  Take that fork in the road, and be surprised by what you find.  AND Keep your fork—the best is yet to come!
BACK TO THE STORY
Okay, a bit of a detour here!  We are on our way to California to see the Zombies in Beverly Hills at the Saban Theatre the next night.  We are passing by the Palm Springs area when there it was, another "fork in the road".  A billboard advertising a concert at the Agua Caliente Casino in Rancho Mirage!  It was for The Roots, the house band for the Tonight Show.  My music fan freak of a husband exclaims, " I wish I had known about this we could have caught them! "  And me, seeing only a fork in the road as we approached the proper exit said "Why Not?  The concert is at 9pm and it is 7pm now.  Let's do it."  And we did, and it was wonderful.   We are not really Hip Hop fans but this group was awesome and played solid for almost two hours.  See, Questlove below. He is a great drummer and one of the founders of the group…the music ranged from hip hop— to techno crazy stuff— to some of the best jazz I have heard!  Well worth the delay, and we still managed to get to our hotel before daybreak.
On Saturday since we were near Newport Beach it was a quick trip to Balboa Island, great lunch, fun shopping AND THEN the greatest detour of all, to Hawthorne California! Yes, my ardent readers, we did take in the Beach Boys Monument right alongside the 105 Freeway marking the childhood home of Brian Wilson.  By the way, we needed our GPS to find this particular "fork in the road".
THE CONCERT
The point of the trip!  I am prejudiced, and opinionated, and I am a neophite when it comes to rock music.  All that being said, I will state that this was the best concert I have been to since the last time I saw the Zombies at a little club in Tucson 10 or 12 years ago.  Rod Argent and Colin Blunstone were playing to a meager crowd of 75 and they were magnificent!   In this wonderful, sold out, art deco theatre from the 30s (The Saban), they were spectacular!  The first half of the show included some old stuff,  and some new stuff, and more than a little story telling and chatter from Rod, Colin, and the "new Zombies".  Loved it!  But then," the piece de resistance"(French for masterpiece and/or magnum opus), the second half!   Rod, Colin and the original Zombies, sans one member no longer around, performed the album Odessey & Oracle from start to finish, with no breaks and no commentary.  It was a religious experience, and the climax to a wonderful weekend adventure!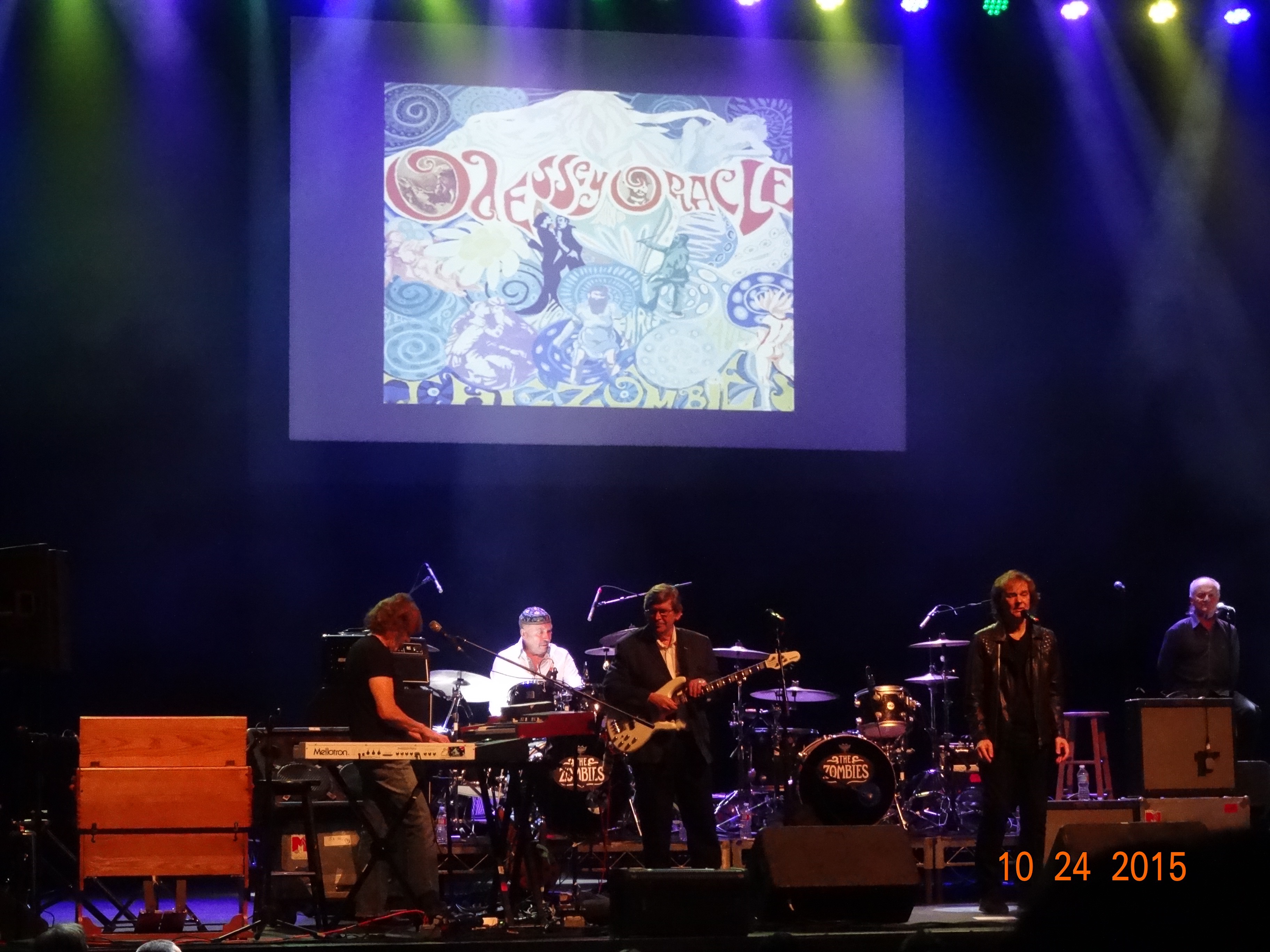 So, there it is, a few detours along the way but a grand experience!  This is how you take a weekend getaway and turn it into an adventure.  These "flytes of fancy" make up our travels.  We love the big, planned, monumental trips to Europe or Asia but even more we love taking that lazy weekend and turning it on its head.  There are more stories than I have time or space for today, so until the next "fork in the road" finds us, I bid you au revoir (one trip to France and I am fluent I tell you!).