We slept in a bit and shared a nice breakfast. Dave is loving it, but does not know how he ended up in a place where grapes, Madelines, cheese and hot tea pass for the morning meal!
We were excited to make our way over to the castle and start on our 6 mile journey of up and down the stairs, up and down the hills to get to the stairs, and back and forth across the River Aude…I think you get the picture. Here is the set up for Carcassonne:
***The castle—Let's start at the top. This medieval castle is really a huge museum. It is open to the public and there is usually a charge but show up on a Sunday and it is free. I need to mention that we have enjoyed the reasonable prices here in the Southern region, including the freebies!
***La Cite'inside the walls. In the middle ages this is where all the worker bees lived, excluded from the privileged life of the ruling class inside the castle, but protected by the outer walls. This is a busy place not only full of the obligatory shops and restaurants, but it is home to many private residents and to the hotels that take care of the travelers.
***Outside the walls, is the Bastide St. Louis. It is the old town that grew up as its own entity as the feudal system collapsed. Our apartment is in the Bastide. A lovely older place bordering Gambetta Square. It is about a one mile walk to the castle from this area.
We made our way there and took the tour… We lunched on sardines, cheese and salad in the courtyard of one of the many restaurants inside the walled city…saw the western ramparts from a horse drawn wagon. There is also a wonderful Gothic Style church that was updated during one of the renovations. We visited, lit a candle for my Godmother Montie Gertrude, and we were surprised and delighted when we heard the massive chords from the organ…no warning, one might have thought God was talking at that moment!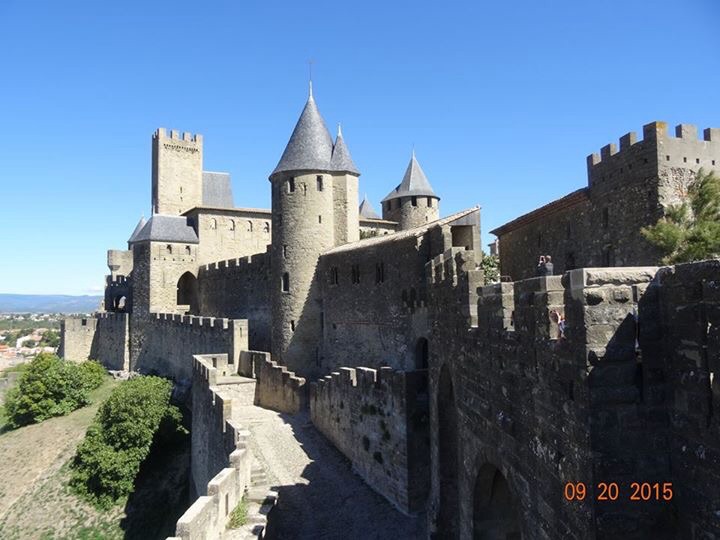 After all this, we retreated to the apartment for a rest so we could return at sunset for more great pictures and dinner inside the walls at L'Ostal. I lost count of the courses and did not expect to do more than taste the Peach Melba. Well, Katie Bar The Door! I consumed the whole thing! I let Dave have a taste…a very small taste! Good thing I had to walk back to the Bastide…saved me from falling prey to a food coma.