Prior to this wonderful vacation in France, I lumped all the huge "houses" into one category… of castles.  It seems however that there are many distinctions between castles, chateaux (don't bother to check…this is plural for chateau) and palaces.  I was truly educated!  Given my need to organize and clarify, here are the definitions for all three:
Castle-a fortified, usually walled residence (many more takes on it but this is the basic definition for my purposes)
Chateau-a stately residence imitating a distinctively French castle
Palace-the official residence of royalty or exalted personage
I found that there is overlap and such with all these definitions.  Many of the places we toured exhibited characteristics of all three types and it got a little dicey pinning each one down. Then there are the variations on each type that bring in more delineation.  A good example is the B&B where we stayed in the Loire Valley. Le Belvedere is a family owned stately manor with some architectural points that look sort of like a castle, and it is walled in.  Technically, it is a chateau but so is Chenonceau, and believe me there is no comparison between the two.  So, I will try to not get all caught up with narrow definitions and just share the wonder and charm of them all with you.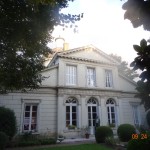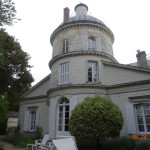 Le Belvedere- First front and the view from the back…lovely home with nice archetechtural features.  This home was built in the early 1800s and has remained in the same family ever since.  Domonique, our hostess takes loving care of this estate and it serves as a B&B in the Loire Valley from April through October.  We were pleased to have this as our home base as we explored the castles below.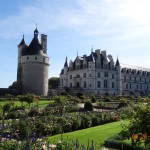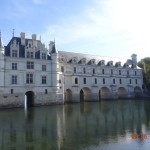 Down the road a bit we found Chenonceau…home to many, but most notably Catherine de Medici in the mid 1500s.  Catherine was the wife of King Henry II who  shared this chateau with his mistress Diane de Poitiers.  He even willed it to her.  However,  when he died in 1559, Catherine removed Diane de Poitiers from Chenonceau and bestowed the Chateau de Chaumont upon her.  Catherine took possesion of Chenonceau and made it her own…changing it drastically and ruling as Regent of France from there.  She made additions and left a great deal of debt along with the property to her daughter-in-law Louise de Lorraine-Vaudemont…well, many stories from there but enough, I digress.  As you can see this chateau and Le Belvedere are quite different. Oh, am sorry, have to share at least one good story.  As you can see, there is a bridge from the main structure crossing the River Cher. It was originally built to facilitate the nobility who came to hunt at Chenonceau…the bridge gave easy access to the dense woods on the other side of the river.  During World War II, the French Resistance was able to smuggle Jews across the river from occupied territory to the "free" zone.  Enough…go find the rest of the stories yourself and a hint here, George Sand.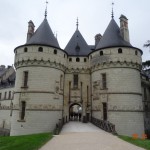 Here we have Chaumont, the humble castle/chateau that Catherine passed on to Diane de Poitiers when she, took Chenonceau for herself.  Diane was a good caretaker for the property, but actually, did not live there for very long.  Interesting point here, prior to ceding this property to Diane de Poitiers, Catherine entertained many astrologers there including Nostrodomus.  While Chaumont is not quite as grand as Chenonceau, it has charm and sits on a high hill, quite visable from many angles.  Worth the visit.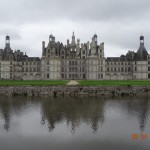 Chambord might be the most impressive chateau in the Loire for several reasons.  First of all, it is the largest with a design that is distinctively a blend of French Renaissance and French Medieval forms.  While not totally verified, it would seem that Leonardo di Vinci may have influenced the design of the chateau, and the double helix staircase housed in the main hall is a masterpiece of design.  Chambord has been damaged, repaired and restored over the centuries.  It bears the scars of the French Revolution and is revered for the part it played in protecting the great art works from the Louvre during World War II.  It is good to note that the Mona Lisa and the Venus de Milo were spared being stolen or destroyed during the Nazi occupation by being hidden inside Chambord.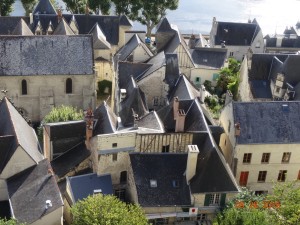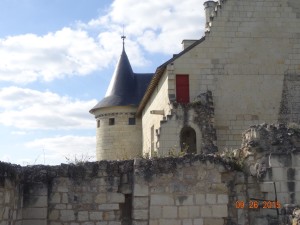 Last but not least, it is Chinon.  Now, here is a place that is quite literally a castle.  It bears little resemblance to the other chateaux in the Loire in that it is truly a fortress and functioned as such with its towers and dungeons.  The picture on the left is the view from ramparts of the castle to the medieval village below.  There is much history here but most important of all is the visitation of Joan of Arc.  She made an incredible journey here in 1429 to convince Charles VII to make his claim to the French throne. She stayed at Chinon and underwent questioning and examinations that proved to the monarch at least that she was neither a heretic nor a fool.  It was this fortuitous meeting that gave Joan the impetus to turn the tide of the Siege of Orleans thus changing the course of the 100 year war. She later stood by at the Cathedral in Reims as Charles VII was coronated as King of France.  More…much more about Joan of Arc in posts to come! And also, more castles, chateaux and palaces…we have barely begun!  Watch for part two.