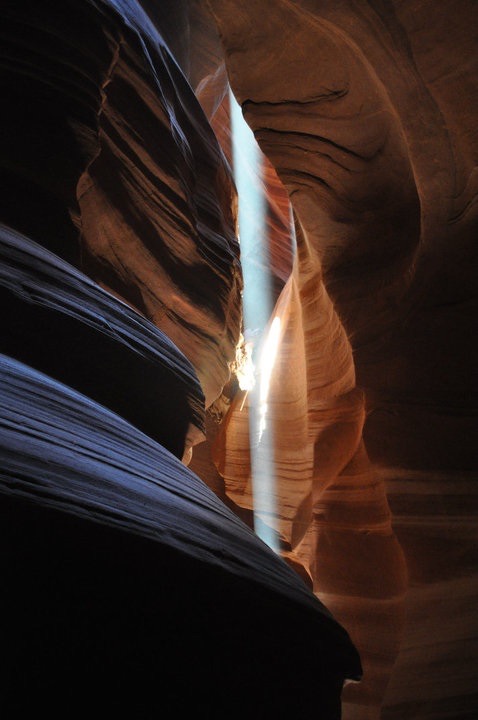 It is not hard to find pictures to post, and stories to tell. My challenge is making the cuts. This  came to light once I added Instagram to my website. It seems that pictures just randomly show up on my page. I am certain that there is something I could do about sorting and selecting,  but I have not evolved to that level of maturity yet with social media, and certainly not with this website!
This picture of Antelope Canyon is a clear example of "so much to say and so much more to see"! David and I spent the day with our Flagstaff branch of the family at this gorgeous place. There are so many pictures from every angle and with different shafts of light.  Then there are the pictures of us with Brett and Val not to mention the three grand kids, Thomas-Taylor-Lauren. We will get to those another time. Right now, let me tell you about this place.
First of all, the slot canyons of Arizona have been on my bucket list since I was a little girl. Many years ago I discovered Paria Canyon, located in Northern Arizona, on the front page of the Parade insert from the Sunday newspaper.  The story and the other pictures took refuge in my little girl brain, and I really did not think too much about them for many years. What I always remembered from the story though, was that it is dangerous to explore these narrow canyons during the rainy season, as there is no escape from flash floods if you are on the floor of the canyon when the water comes crashing in. Then a couple years ago, we (the Slavin and West clans) were talking about a day trip to the Vermillion Cliffs…this is where the canyons are! Paria Canyon is a bit more of a trek than we were up for, but the lower Antelope Canyon looked promising.  The guys did some research and we found ourselves committed to visiting "Heaven on Earth"!
Because Antelope Canyon is closer and easier to traverse than Paria, we chose it.  The canyon is on Navajo Tribal land and we booked our tour out of Page, Arizona with Chief Tsosie Tours. In order to get pictures like the one above (thank you Brett) you have to be inside the canyon in a specific place to catch the light. Timing and patience are critical. According to Chief Tsosie, "it doesn't take a professional to take photos." Just need to be in the right place at the right time…on the right tour of course. All the way through there were so many exquisite sights, each better than the last, that it is difficult to chose. However, this one is perfect!
The tour of the canyon was wonderful and worth the rough ride from Page, sitting on a bench in a big old truck, bouncing around on roads with potholes that felt like canyons themselves. The heat, the dirt, the bumps were worth enduring…even that moment when the front hood of the truck flew off and nearly decapitated Brett was bearable, to finally get to visit our first slot canyon. I recommend it!